Monday, March 3, 2014 at 01:51PM
OK, so what's going on in the Ukrane right now? Are we going to war? Let's find out.
First, where the heck in the world are we?
Click here for the map of Europe
Let's get a little closer: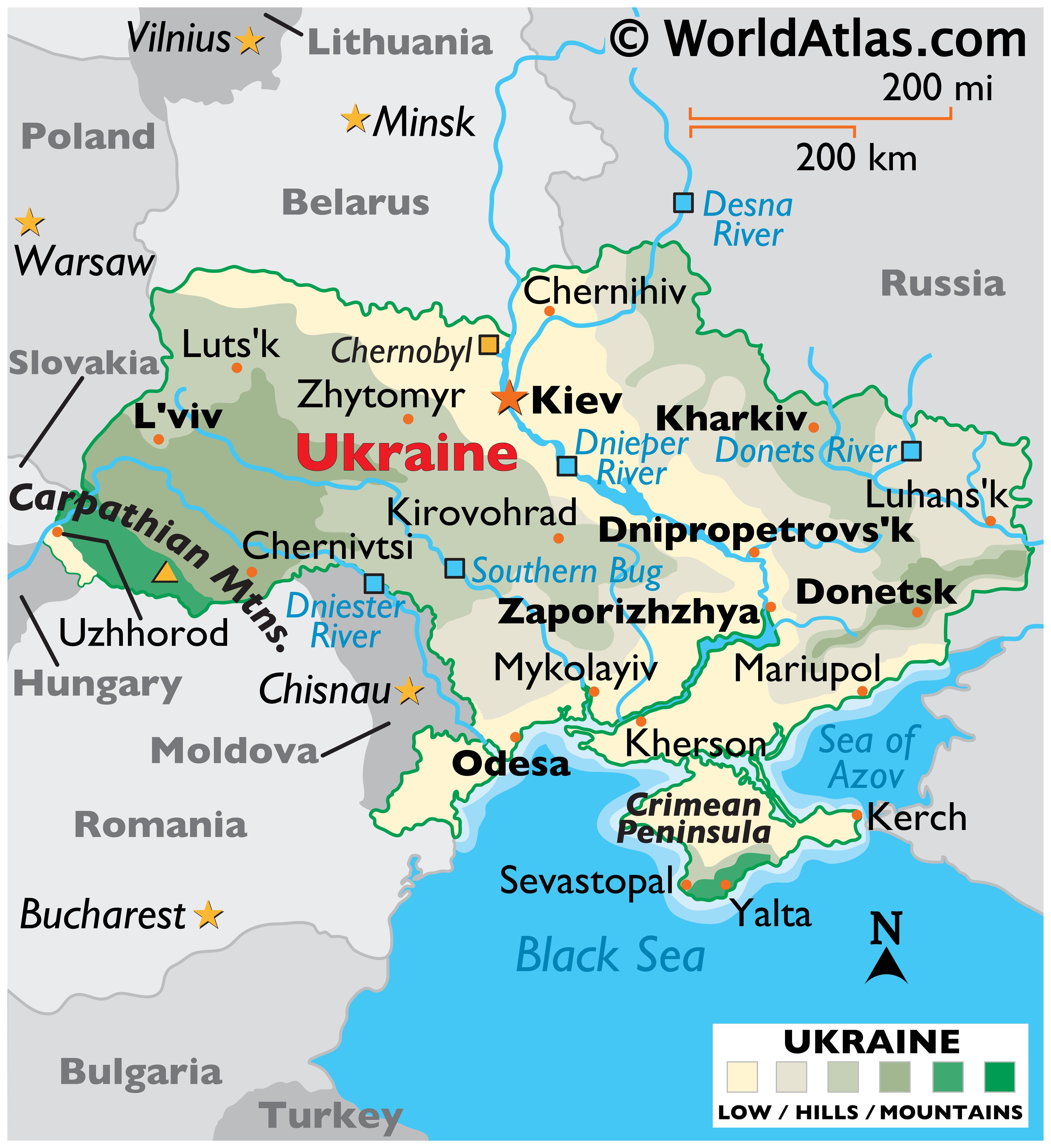 OK, so what is happening there?
Follow this link to see the video
So what is the backstory?
This is the end of the article that goes with the above video:
East vs. West
Ukraine, a nation of 45 million people sandwiched between Europe and Russia's southwestern border, has been in chaos since Yanukovych was ousted on February 22 after bloody street protests that left dozens dead and hundreds wounded.
Anti-government demonstrations started in late November, when Yanukovych spurned a deal with the EU, favoring closer ties with Moscow instead.
Ukraine has faced a deepening split, with those in the west generally supporting the interim government and its European Union tilt, while many in the east prefer a Ukraine where Russia casts a long shadow.
Nowhere is that feeling more intense than in Crimea, the last big bastion of opposition to the new political leadership. Ukraine suspects Russia of fomenting tension in the autonomous region that might escalate into a bid for separation by its Russian majority.
Ukrainian leaders and commentators have compared events in Crimea to what happened in Georgia in 2008. Then, cross-border tensions with Russia exploded into a five-day conflict that saw Russian tanks and troops pour into the breakaway territories of South Ossetia and Abkhazia, as well as Georgian cities. Russia and Georgia each blamed the other for starting the conflict.
So how does this relate to the cold war?
Below is a cut down version of an article, click here to read the whole thing:
WASHINGTON (AP) — In a sudden reprise of Cold War sensibilities, the U.S. and its allies are weighing sanctions on Moscow and whether to bolster defenses in Europe in response to Russia's military advances on Ukraine. Secretary of State John Kerry, soon on his way to Ukraine's capital, said world leaders "are prepared to go to the hilt in order to isolate Russia with respect to this invasion."
Also echoing the era of East-West confrontation, there appears to be little if any taste in the West for a direct military response to Russia's provocation.
Russian President Vladimir Putin gave no indication that he would heed the West's warnings. Hundreds of armed men surrounded a Ukrainian military base in Crimea, a pro-Russian area. In Kiev, Ukraine's capital, Prime Minister Arseniy Yatsenyuk alerted allies that "we are on the brink of disaster."
"This is absolutely the most serious test of our alliances since the Cold War ended," Rep. Marcy Kaptur, D-Ohio, said in a nationally broadcast interview Monday.
"I think it is extremely dangerous. Ukrainians fight and Russians fight," said Kaptur, who has traveled to Ukraine on several occasions and is considered an expert on that part of the world.
Senior Obama administration officials said they believe Russia now has complete operational control over Crimea and has more than 6,000 forces in the region. The U.S. was also watching for ethnic skirmishes in other areas of eastern Ukraine, though the officials said they had not yet seen Russian military moves elsewhere. The officials were not authorized to publicly discuss the situation and spoke on condition of anonymity.
Kerry said he has consulted other world leaders and all are committed to doing what is necessary to isolate Russia diplomatically. President Barack Obama spoke Sunday with German Chancellor Angela Merkel, British Prime Minister David Cameron and Polish President Bronislaw Komorowski.
Kerry planned to travel to Kiev on Tuesday for meetings with the Ukrainian government. Treasury Secretary Jacob Lew said the United States is ready to work with other countries and the International Monetary Fund to provide support for Ukraine's economy.
In Brussels, NATO's secretary-general, Anders Fogh Rasmussen, said Russia's actions have violated a U.N. charter. He said the alliance was re-evaluating its relationship with Russia.
"There are very serious repercussions that can flow out of this," Kerry said.
Beyond economic sanctions and visa bans, freezing Russian assets, and trade and investment penalties, Kerry said Moscow risks being booted out of the powerful Group of Eight group of world powers as payback for the military incursion.
Former Ambassador Nicholas Burns said, "Putin's not going to back off. ... What can President Obama do? Be very minded in opposition. We can't follow a military policy. This has to be diplomatic."
The Pentagon is considering new reductions to Army units in Germany that already have been slashed under Obama. Currently, there are two Army brigades — up to 10,000 soldiers — based in Germany, where armored and infantry units have dug in since World War II. At the end of the Cold War, more than 200,000 American forces were stationed across Europe.
Damon Wilson, an Eastern European scholar, former diplomat and executive vice president of the Washington-based Atlantic Council think tank, said the U.S. must be ready to pour its efforts into Ukraine, even at the cost of policies and priorities elsewhere.
"We should be no longer deluded by the fact that Europe is a safe spot of stability and security, and not a security risk for the U.S.," Wilson said Sunday. He said that if Putin goes unchecked, it could result in war — the second one on NATO's borders.
So, why do we care about the Ukrane anyway?
Not, surprisning, the answer is oil and natural gas. Accoring to the NYtimes, 80% of Russia's natural gas flows through pipelines in the Ukrane, and Russia supplies 40% of all of Europe's gas. There are several interesting maps and facts about the Ukrane at this link.
So what is going to happen? The obvious answer is we don't know yet. The Economist has some interesting speculation.
VLADIMIR PUTIN did not take long to show what he thought of Barack Obama's warning shot that there would be "consequences" for continued Russian military intervention in Ukraine. The prospect of those consequences—Mr Obama mentioned only the suspension of America's part in the preparations for the June meeting of the G8 in Sochi—did not exactly seem to strike terror into the Russian president's heart. Within hours he had called on and received backing in Russia's upper house of parliament for the authorisation of troops for an invasion (or "stabilisation force" in Putinspeak). Not just of the autonomous largely Russian-speaking Crimea, where Russian troops have already seized key facilities and where Russia has a leased naval base, but potentially, and more ominously, of the whole of Ukraine.
Nor does it seem likely that the 90-minute telephone call between the two men that took place in the aftermath of the unanimous Duma vote will have persuaded Mr Putin to pause for consideration. Although a transcript of the conversation has not been revealed, it appears that Mr Obama was trying to nudge Mr Putin towards working through an internationally mediated process that would involve observers on the ground to ensure that the rights of Russian-speakers in the country were not infringed and confidence-building talks with the Ukraine government to recognise the special status of Crimea. That all sounds perfectly sensible, but it is far removed from the trajectory that Mr Putin appears to be on.
The reality is that Mr Putin sees holding Ukraine within Russia's sphere of influence as a vital national interest that he is willing to run pretty big risks to secure. What is more, it seems highly probable that he does not take threats from Mr Obama particularly seriously. He has seen at close hand the American president's disastrous vacillation over Syria, culminating in the scuttling away from his own red line declaring punishment for the Assad regime if it used chemical weapons. He no doubt also draws conclusions from big American defence spending cuts in the pipeline and Mr Obama's extreme sensitivity to the war-weariness of American voters.
If Mr Putin believes (as he almost certainly does) that Mr Obama will do little more than deliver a petulant slap on the wrist, he will have no compunction in putting into operation a familiar playbook. Everything that has happened so far is almost a carbon copy of the tactics used to occupy and effectively annex South Ossetia and Abkhazia in 2008: manipulate, provoke, foment a sense of crisis that prompts an appeal for aid and then send in Russian "peacekeepers".
The difference is that Ukraine is a country of 46m people with by no means insignificant armed forces of its own. It is also bankrupt, and a majority of its people want to be Ukrainians, not subjects of a Russian puppet government. Mr Putin is thus unlikely to want to push things so far that Russian forces get sucked into a hot war in Ukraine against fellow Slavs. With his own economy stagnating, he will surely have second thoughts about taking on the burden of an occupation. Furthermore, whereas after the early 1990s Russia never recognised that South Ossetia and Abkhazia were under Georgia's control, it is a signatory of a 1994 treaty guaranteeing the territorial integrity of Ukraine.
But Ukraine's size and importance also make the current crisis a far more threatening security issue for the West than Russia's intervention in Georgia. While it is easy to criticise Mr Obama's infinite capacity for thoughtful inaction, the dilemmas for Western diplomacy are real enough. The problem is that like the fox, the West knows lots of different things but is not sure what it really wants, while Mr Putin is like the hedgehog that knows just one big thing, namely that Ukraine, especially in the south and east, is really part of Russia's world.
A military response to Russian aggression or the threat of fast-track NATO membership for Ukraine are unthinkable. So the West will fall back on lesser, diplomatic measures in an attempt to isolate Russia within the international community. First, all seven of the other G8 members could say they are not going to Sochi unless Mr Putin backs off. Secondly, the US Congress could substantially widen the application of the so-called Magnitsky Law to include Mr Putin and his Kremlin cronies. Thirdly, trade sanctions could be applied including work to begin freezing Russian banks out of the international financial settlement system. Fourth, a UN Security Council resolution could be prepared condemning Russia for aggression against an independent country that might attract the support of China (always first to denounce intervention in the affairs of a sovereign state) even though Russia would, of course, veto it. Last, the West needs to show ordinary Ukrainians that it will back the new government and that it, not Russia, can offer a path to prosperity.
Russia is not the old Soviet Union, which was relatively impervious to diplomatic and economic censure. Mr Putin knows that Russia could pay a high price for what it is doing in Ukraine. For now, he believes that the risk is worth taking because he sees the West as supine and decadent, more worried about keeping Russian oil and gas exports flowing than about standing up for the idea of a Europe whole and free. It is now up to Mr Obama whether he wants to show the leadership that will prove him wrong.